286 total views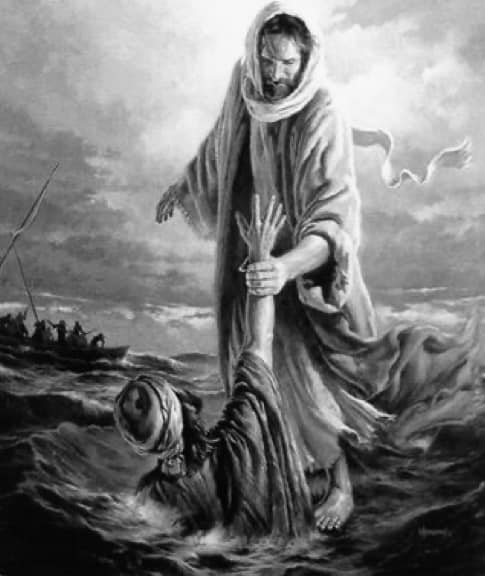 Earlier in the gospel of Matthew it was narrated that Jesus and his disciples were on the boat when a violent storm broke. Jesus was asleep and has to be wakened up, (8:23-27). In today's Gospel, Jesus, while at prayer and not with the disciples, a strong headwind raises high and batters the boat, (14:22-32). Though most of the disciples were very familiar with the sea, no one among them was capable of predicting the storms that broke out unexpectedly. Both stories reflect the first-century belief in spirits, including wind spirits, that play havoc with human life. And only the one who has the power to control them can counter it. Thus, the story comes out not only as a nature miracle (v32; 9:23-27) but more so as an epiphany, a manifestation of the identity of Jesus and his salvific mission, (v30f).
As an epiphany, it means Jesus does what God does: stilling the storm (Ps 107:29), walking on the sea (vv 25, 26, the phrase repeated to emphasize the fact that Jesus does something unusual that only God does; cf Job 9:8), and rescuing those in danger of drowning (Ps 69:1-2, 15; 144:7; Jonah 2); and Jesus speaks as God does: "It is I", (Is 41:4, 43:10; the expression appearing several times alongside the phrase "fear not", identifying Jesus as the one who reveals the God of Israel and is uniquely related to that God; cf Ex 3:14; Dt 32:39).
Before this epiphany, the disciples, and in particular Peter fell short in their perception of who really Jesus is. Jesus addresses Peter with the characteristic expression used in Matthew to describe The Twelve, (Mt 6:30, 8:26, 16:8, 17:20). The term "oligopistos" ( ὀλιγόπιστος ), is a word combined from two words, "oligo" meaning small or little, and "pistos", belief or faith, thus, the adjective of having little faith. In other words, it connotes lacking in belief or having faith in the person of Christ. In both stories, the disciples wavered in their faith. When Jesus comes to the disciples tossed about by the storm and still the sea it shows he really shares that power with God with whom he is in constant connection through his prayer (v23). And it would have been the same for Peter if only he remain focused on, and had enough faith in, Jesus.
Amid the turmoil, it is clearly the abiding presence of Christ that saves. He is the Lord (vv28, 30). And we, like Peter and the rest of the disciples, though we may believe in Him, at times do falter, or have "little faith", especially in the face of persecution and opposition, obstacles and difficulties. May we always keep our eyes fixed on Jesus in the storms of life and may we not lose our courage or faith and always remember that He is close to us, ready to grab our hand and save us when we start to sink. Amen.